The Delfina Restaurant is rarely open to the public in the evenings or at the weekends. It's focus is breakfasts and lunches during the week and event hires in the evening. So it was good to get the opportunity to visit on a Saturday night, only this night was Halloween and they were doing a special menu.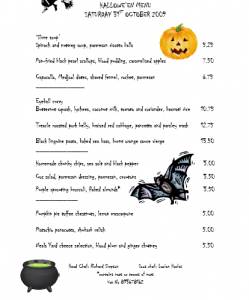 The room is designed to be gallery space and lit accordingly, making it rather difficult to change to a spooky environment for Halloween. Even the tables and chairs are white. The staff dressed up though and there was the odd giant spider and some very effective light projections of witches and bats. I must admit it was disconcerting being served by Dracula and when the waiter spilt some red wine on the white table I almost did not want him to clean it up, as it looked like drips of blood adding to the atmosphere, which needed a lot of help.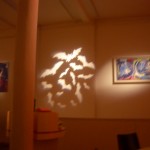 The dinning space is quite large and all the guests had been seated at the back of the room which meant that you always seemed to be looking out at an empty restaurant. They really are not geared up for evening dinning, they actually turned away two walk ins at 9:45 and removed the rather small sign on the curtained doors advertising the Hal loween opening shortly after.  This is a real shame as the area could easily support another "full time" restaurant.
The menu was imaginative and it was surprising just how many of my favorite ingredients it included.
We started with what I assumed was locally baked bread, i.e., too nice to be store bought, with olive oil.  For my first course I had the scallops and blood pudding, this consisted of 3 large juicy scallops and  a few pieces of thinly sliced oatie black pudding, which I really enjoyed.  Next was a fig sorbet to clean our palettes.  Then for the main course I had the pork belly, it consisted of two flavoursome pieces of pork belly (both huge). We had also ordered a side order of chips which was totally unnecessary as the pork came with mash. For dessert I had the pumpkin pie.  We had a couple of  glasses of Prosecco and a bottle of rather mediocre wine. The total cost  including service charge came to less than £50 a head, which is very reasonable for the area and for the quality/amount of food.
I also could not resist taking a picture of the very generous cheese course left on the next table, it looked great when it arrived and you can see from the picture just how much of it was left.
The service was very quick, if it had not been for the wine, I suspect we would have been finished in less than an hour, as it was we finished early enough to pop across the road to one of my favorite bars, the Hide Bar for drinks.
In the Summer Delfina also use their outside space for BBQs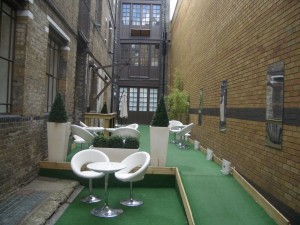 Marks out of 10 for Delfina
Food 5.9
Service 4
Ambience 3
LOCATION INFORMATION
Browse Google Map© :- NoExpert Food Blog – London, UK